Gas Pipelines
An Informed Community Is Safer and Potentially Less Polluting
Champion: Bernie Greenberg Contact: hikerbern@comcast.net
Several pipeline co's are proposing expanded gas pipeline infrastructure to increase the flow of shale gas from upstate to processing and export terminals along the Delaware.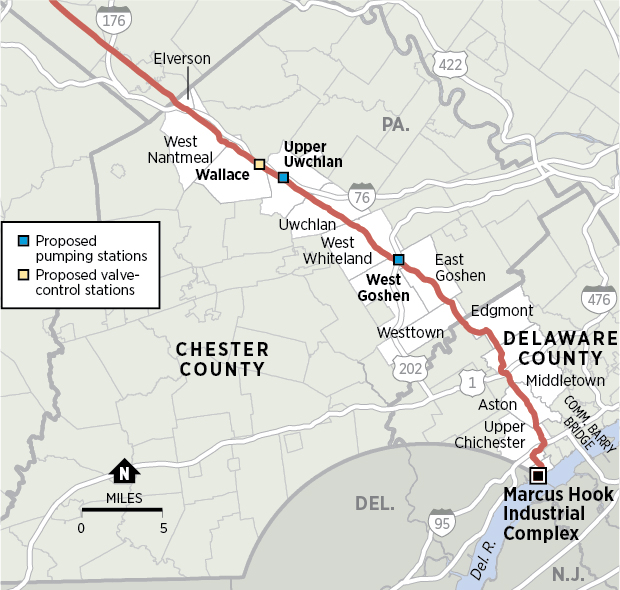 At risk are contaminated streams (during construction and when operating), increased safety concerns and emergency preparedness, property values in the vacinity: of pipelines, pumping stations and flare stacks. And of course more pipelines enables and attracts more industry that adds to global warming due to increased leakage and ultimate burning of methane.
New Chester County Pipelines. Though there are already many pipelines in Chester County, controversial modifications of an old pipeline and an entirely new pipeline have been proposed by Sunoco Logistics. Mariner East I went into operation in 1932 to transport petroleum products from Marcus Hook. This 83 year old pipeline which runs through several townships in Chester County will be repurposed to carry natural gas liquids, mainly ethane and propane, from Marcellus Shale to their Marcus Hook refinery. This pipeline is to transport 70,00 barrels/day of gas liquids in their existing 8" and 12" pipes. It has been estimated that over 90% of the processed natural gas would be shipped overseas. Eighteen new pumping stations with 34 foot flare stacks will need to be built. Mariner East II is a new 16" to 24" pipeline planned by Sunoco to follow the right-of-way of Mariner I East. It should be noted that natural gas liquids are more combustible and because they are odorless, leak detection is more difficult.
Strategy, Tactics: Educate, map w/ route - visualize, Partner w/ activist groups, Call for SC Members to help, Are there legal issues (Em Domain)?, Expose Downingtown school dist payoff.
Resources:
Articles:
.
Partners: Clean Air Council, Delaware River Keepers, http://www.3ccoalition.org/ http://eastbootroad.com/ Protecting Our Waters.