Bakken

Oil Trains

Committee
Env Risks, Community Safety, Emergency Preparedness, Climate Change and Truth
Champion: Peggy Hartzell Contact: Leaflight@earthlink.net
Crude oil trains create a great risk for local communities and to the water supply of Philadelphia along the Schuykill River. They also travel within close range of Limerick Nuclear Power Plant. A spill could threaten cooling water intake.There also are concerns about emergency preparedness for these volitile unsafe cars.
100-300 Dot-111 train cars filled with crude oil from N. Dakota travel through Southeastern PA and Phila. to reach refineries and ports for
export. On July 15, 2014, Sierra Club filed a petition with the U.S. Department of Transportation requesting that the agency issue an emergency order prohibiting the use of DOT-111 rail tank cars for transporting flammable Bakken and other volatile fracked crudes.
Strategy, Tactics: LTEs to local papers in affected communities, Attend twp meetings, Recruit volunteers, Org walks or bikerides, Lobby. Above all our strategy will be to separate fact from rumor and keep our members informed.
Resources: the Beyond Oil/Gas/Coal Campaigns have knowledgeable staff ready to help.
Partners: Delaware River Keepers, Clean Water Action, Clean Air Council, Food & Water Watch, Energy Hub Coalition.
---
Are You In The Blast Zone? - Crude Oil Train Routes,

an interactive map (Forest Ethics)
---
Other Info
Oil Trains - Scary Secrecy (Inquirer - May 24, 2015)
After Passenger Train Derailment in Philadelphia Kills At Least 7, Attention Turns to Oil-by-Rail Hazards (DesmogBlog - May 14, 2015)
West Virginia derailment raises question: Could crude oil disaster happen in Pottstown? (Pottstown Mercury)
Environmental Groups File Challenge to Oil Transport Rules (NY Times - May 14, 2015)
Wolf hires expert on preventing oil-train mishaps (Inquirer - Apr 29, 2015)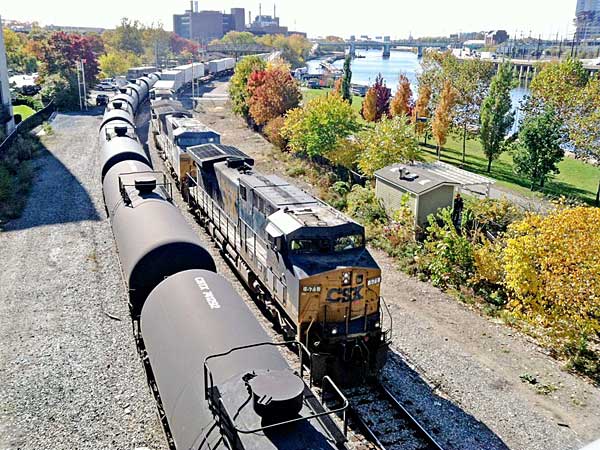 MontCo Leaders Upgrading Capabilities to Respond (CBS Philly - Apr 17, 2015)
Dangerous Trains, Aging Rails (NY Times - Mar 12, 2015)
Montgomery County officials to explore crude oil disaster preparedness (Pottstown Mercury)
Casey: Push new standards for oil-tank rail cars (Philly.com)
Wolf seeks Obama's help in boosting oil-train safety (Philly.com)
1.5 million at risk in PA for crude oil derailment(State Impact/NPR)
The Weather Channel Report: BOOM - North America's Explosive Oil-by-Rail Problem