Conservation Committees
For 2015 SPG would like to help organize around the following environmental and sustainability issues. We are actively looking for volunteers and champions for these committees. If you would like to volunteer or just learn more about our conservation committees, please contact Jim Wylie, SPG Conservation Chair at jim.wylie@verizon.net.
Passionate about something not on this list? We are open to suggestions.
Seize The Grid - Campus Action
Southeastern PA Region
Champion: open
Engage and recruit Philadelphia area college campuses to join Sierra Student Coalition Seize the Grid Campaign.
Take advantage of organized national campaign to encourage college students to move their schools to clean power and to engage in clean energy efforts in their communities. This could potentially dovetail with the SPARC initiative.
Energy Hub
Phildelphia
Champion: Emily Davis
Long time city political leaders want to encourage the creation of infrastructure to support an energy hub in Philadelphia.
Encouraging the creation of Philadelphia as a hub for fossil fuel processing or export will increase air pollution, CO2 and risk of accident. Will also be a waste of funds since conversion to carbon neutral energy is the future.
Residential Energy Efficiency
Philadelphia
Champion: Robin Mann, John Butler
Address the set of barriers including lack of financing and standards undermining Philadelphia's ability to meet ambitous residential energy efficiency goals. Promote Philadelphia progress on EE as helping meet overall Clean Power Plan goals
At risk is falling further behind the Greenworks goals for EE. Failing to stimulate local investment in EE, local industry and clean energy job creation, and spreading the benefits of EE to moderate income households.
Go To Energy Efficiency Committee Page.
Rooftop Solar Advocacy
Philadelphia
Champion: open
Promote residential and institutional rooftop solar installation.
We should take advantage of opportunity to partner with Sustainable Business Network's Rooftop Solar initiative, and to reduce reliance on dirty energy and stimulate local clean electricity and take advantage of declinilng costs of rooftop solar.
Elect a Green Philly Mayor
Philadelphia
Champion: Karen Melton
Promote an ambitious environmental agenda in the Phila. mayor's race and generate strong voter demand for it
At risk is that our next mayor is not incentivized to make Phila. an environmental and climate action leader.
Mariner East Pipeline
Chester County
Champion: Bernie Greenberg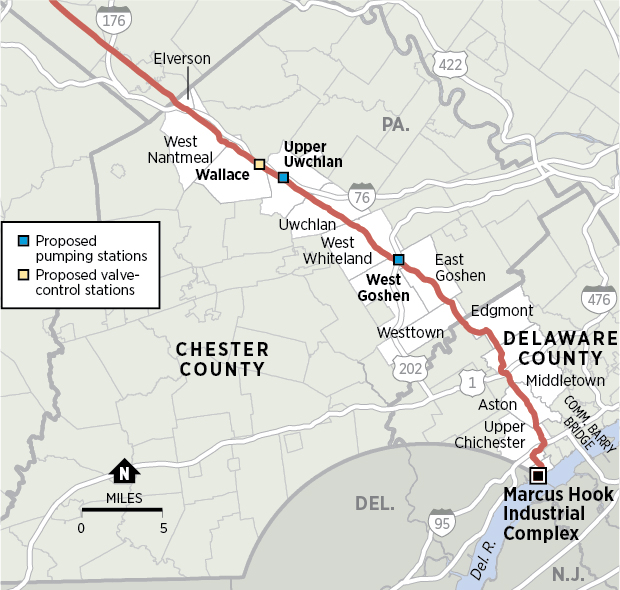 Several pipeline co's are proposing expanded gas pipeline infrastructure to increase the flow of shale gas from upstate to processing and export terminals along the Delaware.
At risk are contaminated streams (during construction and when operating), increased safety concerns and emergency preparedness, property values in the vacinity: of pipelines, pumping stations and flare stacks. Global warming due to increased leakage and ultimate burning of methane.
Go To Pipelines Committee Page.
Penn East Pipeline
Bucks County
Champion: open
The PennEast natural gas pipeline is expected to originate in the Wilkes-Barre area (Dallas, PA_Luzerne Co), pass through Easton, PA into Bucks Co and extend to the Delaware River near Trenton, NJ.
Bakken Crude Oil Trains
Southeastern PA Region
Champion: Peggy Hartzel
100-300 Dot-110 train cars filled with crude oil from N. Dakota travel through Southeastern PA and Phila. to reach refineries and ports for export.
Crude oil trains create a great risk for local communities and to the water supply of Philadelphia along the Schuykill River. They also travel within close range of Limerick Nuclear Power Plant. A spill could threaten cooling water intake.There also are concerns about emergency preparedness for these volitile unsafe cars.
Go To Oil Trains Committee Page.
Elcon Recycling: Hazardous Waste Treatment Facility
Bucks County
Champion: open
Israeli-based Elcon Recycling Services has recently submitted an application to the DEP with the intention of building a hazardous waste treatment facility in Bucks Co. using the former US Steel Site in Morrisville, PA, directly across the Del Rvr from Trenton. The facility will treat ~210K tons of raw liquid waste and return usable clean water, removing mercury, cadmium, and lead (etc). This new proposal is unrelated to last year's Bristol plant proposal.
At risk is the Delaware River which is < 0.5mi from the proposed site. There is incineration involved in the process which is expected to produce > 39 tons of emmissions annually (including NOx, NH3, HCl, VOC, SOx). This is expected to drift and settle amongst the surrounding highly populated areas as well as into the Delaware River.
Sustainable Food
Chester County
Champion: Mike McGrory
Raise awareness around our food system, sustainability, and how to live a life that is more in tune with nature.
Many aspects of our current food systems in place around the globe are causing much of the environmental destruction and social issues that we currently face.
Zero Waste Experiment
Chester County
Champion: Eva Wylie
Is it impossible to have even a week when the trash doesn't get put out for pickup? Sure, we all recycle what we can, we may even try to reduce our waste by making smart purchases and clever re-use. But really? NO TRASH?!!
At risk are: overflowing landfills, diminishing natural resources and materials, carbon footprints.
Americas Red Rock Wilderness Act (ARRWA)
Southeastern PA Region
Champion: Prasad Ramnath
ARRWA is an act to declare parts of Redrock country in Utah as Wilderness. This act has been around for a while but has never come to the floor for a vote. To get it to the floor there needs to be enough congressmen willing to cosponsor it. Lobby area congressmen to cosponsor ARRWA. We were able to get Congressman Patrick Murphy in Bucks County to cosponsor two years ago. We need to continue the work with current Congressman Mike Fitzpatrick and other area congressmen.
Gas and Oil drilling is a risk in this region as well. Addtionally dust from the disturbance has increased snowmelt resulting in dry rivers once all teh snow has melted in early spring.
Sensible Commuting
Chester County
Champion: Susan Charkes
Chester County residents depend on conventional cars to get around. For example, over 80% of residents' work trips are in single-occupant vehicles. Chesco Study
This reliance on conventional gas-powered vehicles contributes significantly to air and water pollution, traffic congestion, sprawl, climate change, impaired physical and mental health and the illusion that we need to create more lanes to meet our needs.
Sensible Commuting
Montgomery County
Champion: open
Same coontitions exist in Montgomery Co. Yet, deveopment continues increasing pollution, cars and congestion and so fourth. Public transit is inadequate and there is nothing in place to encourage and help drivers find alternatives to driving.
Smog Rule
Montgomery County
Champion: Gary Lytle
Coal-fired power plants are the largest single source of smog-causing pollution in the state, even though most large plants have technology that could reduce emissions by up to 40 percent. Unfortunately, they are not using this life-saving technology as often or as effectively as they should.
Clean Power Plan
Montgomery County
Champion: Gary Lytle
The Federal Clean Power Plan, which calls for reductions in carbon emissions from power plants of 30% by the year 2030, requires each state to develop a plan to meet this goal based on local opportunities and challenges. We want to encourage PA to make a plan that sets us on a course towards even greater carbon emissions by building clean and renewable power sources like wind and solar.
Open Space & Stormwater Mgmnt
Delaware County
Champion: open
Can we take a stand on development of approx. 230 acres in Marple Twp near Darby Creek that could add to flooding down stream? There is an offer to do an enviremental study which has not been approved by the township or the church.
---
Some Info About 2014 Projects
Environmental Justice
The Sierra Club and the SPG have been building a relationship and collaborating with the Eastwick Friends and Neighbors Coalition over the last 2 years. The coalition came together to fight a redevelopment plan for an area of the neighborhood adjacent to the John Heinz NWR that is currently reverted green space and a buffer to the adjacent John Heinz National Wildlife Refuge. Philadelphia made a deal behind closed doors in 2012 to rezone and let the developer build multifamily housing on that land seeking to close the book on the ugly redevelopment initiative from the 1960s era that forcibly removed thousands of residents of this community in Southwest Philly, and razed their homes and businesses in the name of progress. There is an excellent account of the history and status by EFNC's attorney, Amy Laura Cahn, in Harvard's Environmental Justice Law Journal
Read more about the challenges, achievements and plans that the Philadelphia area Sierra Club EJ team is working towards HERE.
To join the Phila/Env Justice action team, contact Robin at robinlmann@gmail.com
Protecting Fresh Water Preserves
Sierra Club volunteers organized a few events to support the efforts of Amy and Dave Freeman, who are paddling (and sailing) from the Boundary Waters Canoe Area in Minnesota to Washington, DC as part of the Paddle To DC action to raise awareness about threats to the BWCA and other fresh water preserves and recreation areas due to nearby mining, drilling and other pollution risks.
We were happy to host a group paddle on the Schuylkill River and a reception at the Girl's Rowing Club of Philadelphia. Thanks to all that joined us on Nov 22, 2014 and a wish of calm waters to Dave and Amy on the rest of their voyage and good luck making a statement in Washington.
Paddle to DC: A Quest for Clean Water from Nate Ptacek on Vimeo.
Some photos from our events on the Schuylkill River and at the reception. Click on any to see the whole Flickr set.
To see the blog of the complete trip and sign the petition, go to Paddle To DC
Special thanks to Hidden River Outfitters for arranging a group paddle for this "off-season" event." And to the musical harmonies of Nicole and Angelique Zuppos.
If you want to volunteer on future actions to protect our fresh water preserves, contact karen.melton59@gmail.com
Anti Mountaintop Removal Coal Mining Project
Philadelphia area volunteers have been organizating to raise awareness of the impact of mountaintop removal (MTR) coal mining the Appalachian regions of Virginia and West Virginia. While coal extracted from the mountains helps to keep our houses warm and the lights on, it has a more insidious affect on the people that live down stream of mining waste. Ground water and streams are contaminated with metals that have long term effects on people and wildlife.
Philadelphia is home to the region 3 headquarters of the EPA, which is responsbile for all of Virginia and West Virginia. We are helping to give a voice to the people of Appalachia. Read more here and here ...
To join the Phila/MTR action team, contact Jim at jim.wylie@verizon.net
Support for Pennsylvania's Alternative Energy Portfolio Standard (AEPS)
The AEPS is the mechanism that forces our electric utility companies to slowly transition the mix of energy source from primarily fossil fuels and nuclear to clean and renewable sources like wind and solar. The current requirements call for Tier 1 fuels (solar, wind, geothermal, hydro, methane from bio, biomass, fuel cells, coal mine methane and black liquor) to ramp up to 8% by 2021. And the solar specific portion to ramp to 0.5% by 2021. Sierra Club, and others, supports legislation that would increase these requirements to 15% by 2023 for Tier 1 and 1.5% for solar.
We've seen renewable energy projects create good family-sustaining jobs in the wind and solar industries, as a result of the stimulus created by the original passage of the Alternative Energy Portfolio Standard in 2005. But since that time many of our neighboring states have adopted stronger renewable energy policies while we have languished. As a result, the good green jobs created by our AEPS are being lost to states like New Jersey, Delaware and New York.
To join the Phila/AEPS action team, contact Karen at karen.melton59@gmail.com
Smog
Coal-fired power plants are the largest single source of smog-causing pollution in the state, even though most large plants have technology that could reduce emissions by up to 40 percent. Unfortunately, they are not using this life-saving technology as often or as effectively as they should.
Nearly two-thirds of Pennsylvanians, including more than five million people in the Southeast region, live in areas with failing air quality due to smog pollution. The new safeguards are intended to help solve this health crisis. However, the proposed plan fails to set meaningful limits on coal plants that would require them to use available pollution-cutting technology.
Read more here.
The Beyond Coal Campaign will also be taking action on "bad air" (orange or red designations for ozone pollution) days this summer. People are encouraged to write letters to the editor or op-eds for newspapers in the vicinity. For more information on this, please contact Sue Edwards: sueedwards79@gmail.com.
Support for Pennsylvania's Wind Industry with Federal Production Tax Credits
Clean energy like wind and solar had a breakthrough year in 2013, and that sent the fossil-fuel billionaires running scared. They're worried that their profits will be blown away by reliable, cost competitive, American-made wind farms and solar arrays -- energy sources that don't choke Pennsylvanian skies with smog and soot and don't dump toxic mercury and selenium into our beautiful streams and rivers.
Show your support by sending a letter to your congressman here. Check back here for further news on organizing teams that will help support the Wind Productin Tax Credit.
To join the Phila/AEPS action team, contact Gary at gary.lytle@sierraclub.org
Or join the PA Clean Air Team email distribution list on Google Groups.